Welcome to Kirbside Catering
"Serve others as you yourself would choose to be served".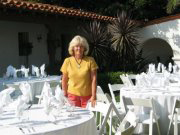 Linda Kirby Events/Kirbside Catering has been serving Orange County residents and professionals over 25 years. Linda comes from a background as Director of Food Services in the private school industry where she served over 1,000 lunches daily, five days a week. Creative menus, delicious meals, and word-of-mouth launched her business catering.
Our operation is certified, professional, insured and personable... serving celebrities and people just like you. It's all about friends and family.
You bring them together and we'll supply the great food and fun.
Corporate Lunches: Employee Appreciation, Vendor Recognitions, Lunch & Learn
There are 79,654 business and professional firms in Orange County, CA. Eventually we'll get them all fed but in the meantime... we still have time for all your special occasions. And yes, we do Special Events outside of O.C. !
(Source: insideprospectsinc.com January, 2012).